DISASTER RELIEF
Hurricane - Tornado - Flood - Help for those in need
We need your help. Your cash gift of any amount will help bring hope to those that have lost everything.
For bulk donations, please call our Warehouse at 561-719-7882.
For donations of food; cleaning supplies; toiletries; tools; and next to new clothing please call our office at 352-418-1146 for drop-off site locations.
You can make a donation with your credit card

Or you are sending a check and please make it
payable to Night Runners & mail to:
Night Runners
4801 North Florida Ave.
Hernando, FL 34442

(Your contributions are tax-deductible)
The Night Runners Mobil Crisis Services is a critical Private Non-Profit Emergency agency for the general public which provides emergency services which are critical to the survival and well-being to the general public
Night Runners is an ESF-15 State Emergency Response Team. As a SERT team member we implement POD's (Points of Distribution) at the direction
of the local and State EOC.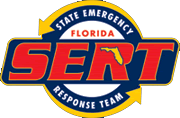 Our services are developed and implemented in the following manner:
LOGISTICS
I. Provide mobile logistics and housing for a minimum of 200 individuals. These services will be first made to first responders (i.e. law enforcement, military, fire, rescue, etc.)
II. While implementing the Night Runners POD (Point of Disbursement), for the distribution of ice, water, and emergency items we provide the logistics for various agencies that are providing services in the areas of housing, medical, and others.
III. Provide logistics for long term recovery agencies that work with volunteers that provide mudding out (debris removal and rebuilding support and services).
IV. Provide the equipment and supplies to set-up a temporary first aid comfort station and/or a medical clinic.
DISASTER RELIEF SERVICES
Set-up donation drop-off and distribution sites of emergency items.

24 hour logistics site for first responders, volunteers, and long term recovery teams
providing them with hot meals, showers, and supplies.

Mobilize strike teams to distribute to isolated communities and individuals unable to reach distribution sites.
OPERATIONS
Nigh Runners has the ability to operate independently of any building structures or utility hook-ups.
We are capable of relocating our logistics from community to community as needed.