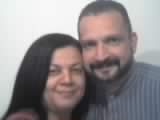 Rev. Gilbert &
Evelyn Abrueo

Night Runners Mobile Crisis Services and Disaster Relief
4801 North Florida Ave.
Hernando, FL 34442
Office: (352) 418-1146
Warehouse: (561) 719-7882

Night Runners operate community outreach in high-crime/low-income neighborhoods; inner-cities and rural areas reaching the entire population as well as assisting with disaster relief in devastated areas. You can see a brief video about our outreach below.
VIDEO